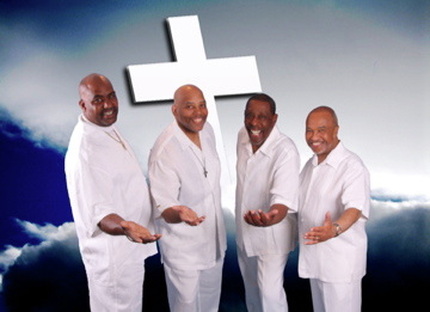 _
"It is my honor and pleasure to introduce this dynamic and diverse music ministry to the world. The Mighty Men of Faith have set their sites on reaching the masses people of every age by presenting Jesus in this silky-soulful-spiritfilled-slammin' sound packed debut CD; 'Because He Loves Me'
There is a blessing in your listening
!"
Bishop Dennis V. Proctor
A.M.E. Zion Church
We are Wendell Basey, William (Pedie) Carswell, Rev. Ed. Prothro-Harris, and Malvin Scott, a Gospel Music Quartet. who sing gospel songs of praise and worship with inspirational lyrics and with a soulful delivery. We began our music ministry in April 2009 when we sang at the Annual Men's Day at the University AMEZ Church in Palo Alto California. Although we only planned to sing for that one event God had other plans. Our music ministry has been blessed to serve at numerous forums throughout Northern California and beyond. We are a music ministry that sings songs of praise and worship with fervor and zeal. We have set our site to spread God's Word through music to people of every age throughout the world. Our Debut CD "Because He Loves Me" contains unique joyful Gospel/Christian Music. The Gospel CD has 10 spiritually uplifting songs with something for every taste. If you like contemporary gospel music, it's there. If you like traditional quartet gospel music, it's there. If you love beautiful melodic gospel music, it's there. Our sound is unique but influenced by the likes of the Temptations, Whispers, and Canton Spirituals. As gospel artist our goal is to produce gospel music of praise and worship that is inspirational, will change lives, evoke spiritual fervor, and have lasting spiritual effect. We are hopeful that our spirit filled music ministry will be a blessing to every listener.
Listen to a Gospel/Christian song from the CD at the
product
page.
You can also hear snippets from our new CD "Mighty Men of Faith Shaking the Foundation, live at the Cubberley Theater" scheduled for release in July.
After you listen to our music, we know you will love our sound and the inspirational lyrics of the Mighty Men of Faith. Make songs from the CD a part of your Gospel Music library. Here is a list of the songs on the "Because He Loves Me" CD
:
1.
I'm Satisfied
:
A song of expression to express the place we find ourselves when we actually find
contentment in Jesus. The Apostle Paul writes in Philippians 4:11 "I have learned to be content (satisfied, gratified) in whatever state I am in." Seeing things God's way will make you feel satisfied!
2.
Because He Loves Me
:
When we think about all that God created and sacrificed for human-kind, we must acknowledge the Love that he has for people. As we come closer to God we better understand how deep His love truly is.
3.
Do You Know Who You Are?;
simply reminds us that there are certain benefits to being a child of The King. This message of encouragement is the driving force that keeps us ever mindful of our accountability as "King's Kids".
4.
Send Me, I'll Go!
Addresses the fact that there will be times when those around us may not be as committed to this Christian walk as we are. Nor should they be. Each of us must stand for ourselves in judgment. To receive the highest reward, we must be determined to go-even if we go alone!
5.
Are You Thirsty?
Many of us have tried substitutes for the "Real-Thing" and have not been satisfied. If you have tried everything else and are still searching, try Jesus, He is the "Living Water-The Well –Spring of All we need", that never runs dry.
6.
He Made a Way!
When all else had failed and there was no one and no where else to turn, God-The Father, God –The Son (Jesus) and God –The Holy Spirit rallied and rallies on our behalf to make a way out of no way! The praise is in the testimony-"He made away" and there is hope in knowing that He will do it again!
7.
Never Seen the Righteous Forsaken
is a continuation of the message that King David expresses in Psalm 37:25. We are encouraged by the fact that being right in God's eyes yields rewards that are beyond anything this world can offer. "He supplies all our needs according to His riches in glory!"
8. We Will Praise Him!
Is a declaration and an act of obedience. The Word of God admonishes us, as long as we are breathing, to express our gratitude to a loving God. Nothing can separate us from His love except our disobedience. There we are not to be ashamed so we vow to praise Him at all times!
9.
Use Me Lord!
Conveys to the Loving God of all things big and small that we are available for use in "kingdom building". The gifts, graces, talents, situations, circumstances and purpose that we have been blessed with are for our good and His glory. Our availability, as creation to the Creator, show how much we really appreciate His love for us.
10.
Because He Loves Me
, brings us back full circle. It is ultimately not about us at all. It is all about Him! We can only love others when we acknowledge that everything that exist, does exist, "Because He first Loved Me!"
There is a blessing to your listening.
(C) GOSPEL ARTIST MIGHTY MEN OF FAITH. ALL RIGHTS RESERVED