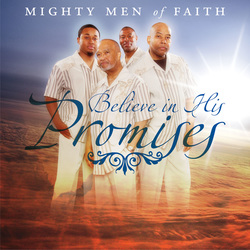 Multi Award winning Gospel Recording Mighty Men of Faith debuted in April 2009 at a Men's Day celebration at a local church in Palo Alto, CA. That experience inspired them to travel and perform throughout Northern California and beyond ultimately singing on the "Bobby Jones Presents" show on the
Impact Television Network
. In July 2015 the group was among the Headliners at the Rhythm of Gospel Awards main show. The music of the Mighty Men of Faith, Wendell Basey, Charles Johnson, Rev. Ed Prothro-Harris and Rev. Richard Hayes, is a blend of traditional and contemporary gospel music that some describe as neo-gospel. The Mighty Men of Faith's mission is to sing gospel music of praise and worship that will evoke spiritual fervor, change lives, and have lasting spiritual effect.
Albums:
Believe In His Promises released April 2016
"Because He Loves Me" released 2009
"Mighty Men of Faith Live at the Cubberley Theater" released 2011
"Nothing But Grace" released 2014
Singles
Falling in Love Again
It's a Mighty Good Thing To Be Chosen
Father These Things I Pray
Awards
2014 the San Francisco Bay Area " Black Music Association and Academy of America recognized the group with the "Best Gospel Group" and "Best Image Awards".
GospelCDreviews 2014 "Artist of the Year"
Independent Music Award Nominee
2015 Rhythm of Gospel Awards: Contemporary Group/Ensemble of the Year and
Contemporary Quartet CD of the Year. (Nothing But Grace)
The Mighty Men of Faith new album "Believe In His Promises" of inspirational songs that some label Neo-Gospel is now available at
Amazon
,
Apple Itunes,
Bandcamp
,
Cdbaby
and many other download sites. The album can be ordered at your local retailer through Super D. Distributions.
Two time Grammy nominated producer Prince Damons is producing the album. All songs have been recorded and completed. The album speaks to the fact that God's word is unquestionable and that if you accept that truth you will live a life of peace, joy, and abundance. You can hear snippets of five songs from the album here
youtu.be/HL1QSm9XnSQ
.
​Track List
1. Believe in His Promises
2. Prayed About It
3. Watching Over You
4. The Power of We
5. You Tried Everything
6. Interlude: Why Don You...
7. We Offer Praise
8. Just Hold On
9. Magnify His Holy Name
10. Interlude: Praise Break
11. He's Worthy
12. Keep On Livin
Facebook:
http://www.facebook.com/MightyMenofFaith
Twitter: http://www.twitter.com/mightymenoffait
---
---
(C) GOSPEL ARTIST MIGHTY MEN OF FAITH. ALL RIGHTS RESERVED